Passwordless Authentication
and MFA for ultimate healthcare security
Elevate IT infrastructure with the power of secure healthcare solutions. Let onsite and remote employees access their accounts and workstations in seconds, without phishing threats or data breaches.
Data breaches in Healthcare linked to stolen credentials
Average time medical professionals spend on login
Medical workstations lacking secure authentication
Average cost of a Healthcare data breach
What is passwordless authentication?
Passwordless technology is based on
FIDO2 and U2F authentication standards
, which enable users to securely access their online services without the need for traditional passwords. By using a variety of authentication methods, such as
hardware security keys, mobile apps, passkeys (Touch ID, Face ID, Windows Hello)
, passwordless access offers a higher level of security while improving the user experience.
This approach has become increasingly popular in recent years as more and more healthcare organizations seek to protect their electronic health records from cyberattacks with the help of

FIDO Authentication

.

How Will Your Organization Benefit From passwordless Authentication and MFA?
Improved Security: Passwords can be stolen or cracked, leaving enterprise networks vulnerable to attacks. Replace traditional passwords with stronger, more secure sign-in methods, such as biometrics or security keys.

Reduced IT Burden: Managing passwords is time-consuming and expensive for IT departments. Passwordless solutions eliminate the need to manage and reset passwords, freeing up IT resources for other tasks.
Enhanced User Experience: Passwordless login streamlines the authentication process, making it more user-friendly. This, in turn, can improve employee productivity and satisfaction.

Compliance: Passwordless auth provides stronger authentication measures, enabling organizations to comply with various regulatory requirements, such as GDPR, HIPAA, PCI DSS, and more.
How Does Hideez Authentication Service Work?
We help small healthcare companies and large corporations, whether you have 5 or 5,000 employees.
Our triple-layered authentication system can be customized to your preferences, ensuring maximum security and smooth user experience: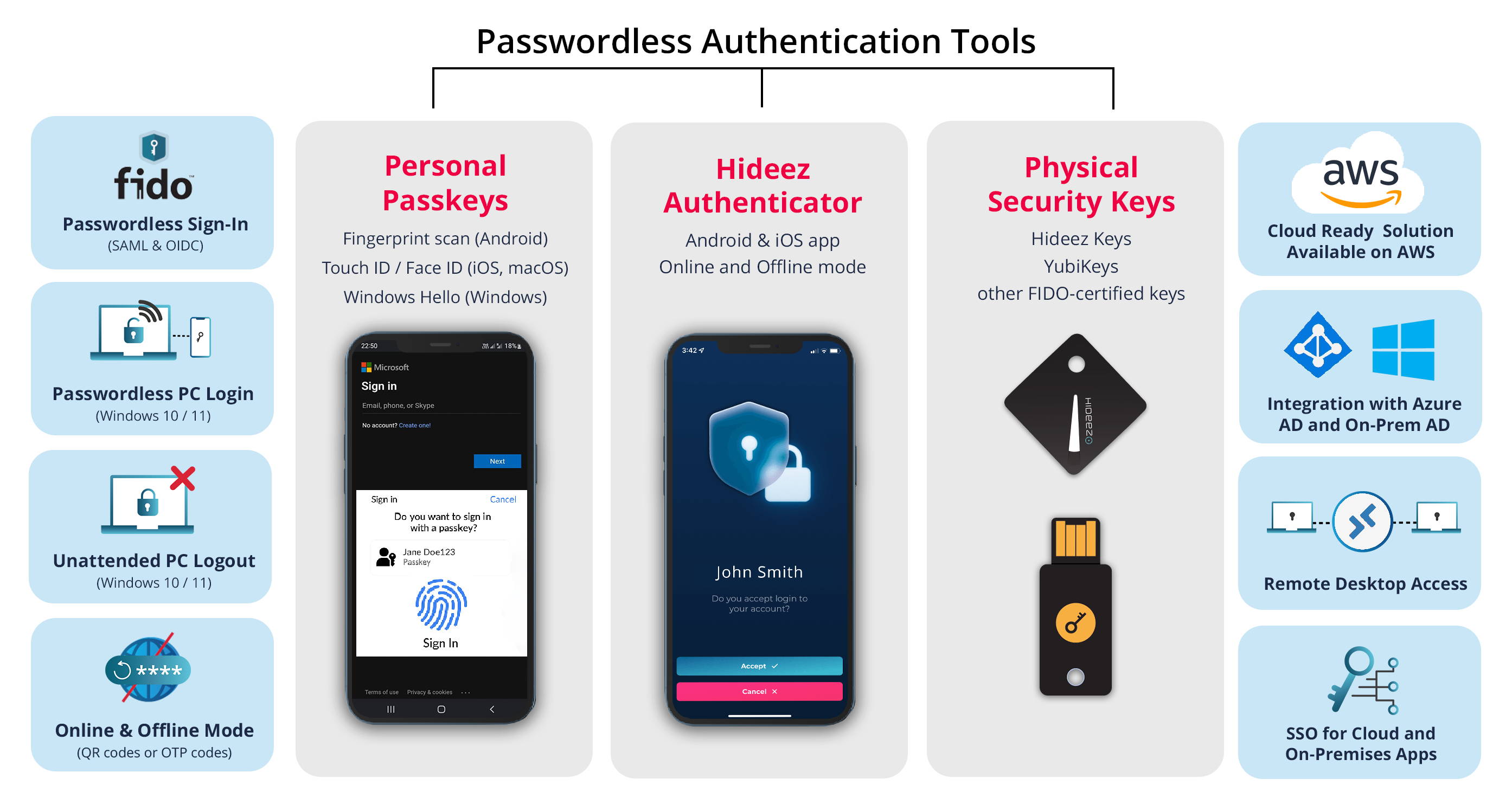 Hardware Security Keys
for Healthcare Facilities
Discover the practical applications of Hideez Service in healthcare organizations through this one-pager case study. Explore how Hideez can elevate your cybersecurity defenses and protect critical resources from unauthorized access.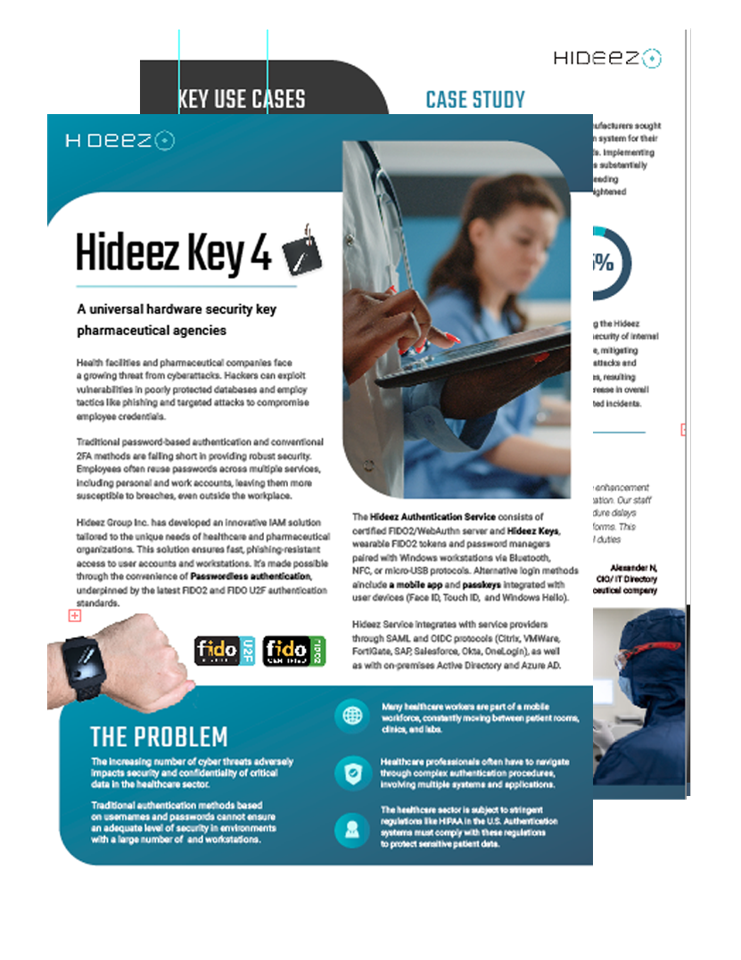 Say Goodbye to Passwords:
Experience True Passwordless SSO

Regardless of how many Identity Providers you have, Hideez can assist you in getting rid of passwords. By expanding your investment in SSO and making it passwordless, you can attain the highest level of assurance for all of your applications. With Hideez, the possibilities for authentication are endless!

Streamline Your Workflow
with Remote Login Solutions
With Hideez, you can equip your team with speedy and straightforward passwordless security that works on all their devices, applications, networks, and more. By using Hideez, you can streamline and consolidate logins for desktops, RDP and VDI, which can boost your team's efficiency no matter where they are working from.
Proximity-based PC Login
and Unattended Logout
Our hardware security vaults store up to 2,000 passwords per device. With automatic proximity lock/unlock for PCs, you can ensure that access to your desktop computers is always secure. Our solution also provides the ability for remote user logout, allowing you to end user sessions remotely.

Seamless Integration with Cloud-Based and On-Prem Services
Our access and identity management tools integrate seamlessly with Active Directory and Azure AD, providing centralized authentication with SAML SSO. Our user authentication solution supports both modern and legacy applications.

Internet Connection
Isn't Required for End Users
Stay connected to your corporate resources even without an internet connection. Our passwordless authentication solution allows employees to access apps and log in to workstations offline. With our mobile app, employees can using one-time codes, while Hideez Keys offer one-touch login with a PIN code.

Admin Console for Managing
Users and Access Rights
Our user access management tools allow you to manage authentication methods and access rights of all employees, with the ability to revoke or delete users from a central admin console. With customizable solutions, easy deployment, and support, you can manage user access with ease!
main components of the hideez service

Virtual Server in the Cloud
for Centralized Identity Management
A centralized user management dashboard facilitates employee onboarding and offboarding, ensuring that only authorized personnel have access to medical resources. IT administrators can add onsite and remote workstations, users, and their authenticators. On-premise deployment is available upon request.

Variety of Authentication Methods
1) Passkeys
(fingerprint scan, facial recognition or PIN) for passwordless sign-in and MFA;
2) Mobile Authenticator for passwordless sign-in to accounts and passwordless desktop login;
3) Hideez Keys for password-based or passwordless sign-in to accounts, MFA, Tap&Go desktop login and automatic logout when the user leaves the workstation.

Desktop Client app for Windows workstations
Hideez Client securely connects Windows workstations to the Hideez Server. In the event that Hideez Keys are used as the primary authentication method, the desktop client enables Tap&Go login and unattended logout for employees, as well as traditional password management.

FIDO U2F (Level 1) Certified

FIDO2 (Level 1) Certified


Microsoft-approved
FIDO2 Security Key Vendor

Meets NIST
Password Guidelines


Get Ready For A Passwordless Future In Your Organization!